NextBillion, an initiative of the World Resources Institute's Markets and Enterprise Program in partnership with the William Davidson Institute (WDI) at the University of Michigan, is a web forum for the community of business leaders, social entrepreneurs, NGOs, policy makers and academics who want to explore the connection between development and enterprise. NextBillion recently highlighted The #GlobalPOV Project as part of its "NexThought Monday" coverage. Regarding the third video in the #GlobalPOV series, "Who Profits From Poverty?," NextBillion writes:
Taking on directly the idea of the "fortune at the bottom of the pyramid," [Prof. Ananya] Roy and Abby [VanMuijen] illustrate with words and pictures the opportunity, risk, and history of creating markets for the poor. Not all of that history has been good for the poor, in fact much of it has been very costly for them while generating plenty of profits for the privileged and wealthy."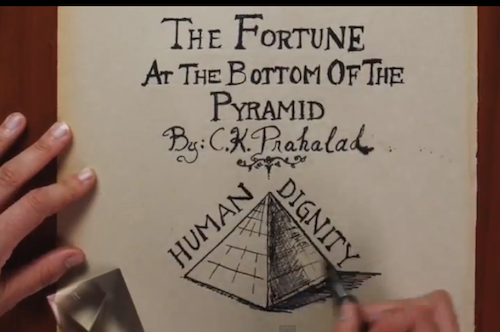 Regarding the #GlobalPOV audience—undergraduate students at the start of their careers, NextBillion quotes Roy:
Most centers focused on global poverty in America are focused on cutting edge research for graduate level, and that is very important, but we felt they were very disconnected with this larger generation of undergraduates who are really the most passionate about poverty action," Roy says. "We recognized that our goal wasn't to turn them into development specialists; they could do that in graduate school and they could do that in work after college. The main idea of the program has been the ethics of global citizenship—not global leadership, but global citizenship, to produce a different kind of architect or engineer or lawyer."
To read the full article, click here.