By Carlo David
A group of students, led by Professor David Levine of UC Berkeley's Haas School of Business, are seeking to combat preventable diseases in developing countries like Bolivia, Cambodia, Tanzania and India, where significant populations do not have access to clean water and soap. Their goal is to make hand washing routine for thousands of students and teachers by introducing a fun and interactive curriculum—called "Hygiene Heroes"—at public schools. The Hygiene Heroes curriculum includes recreational activities, board games, and a book, as well as cost-efficient supplies like "soapy bottles."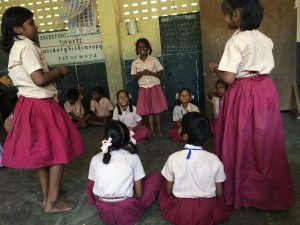 According to the Centers for Disease Control and Prevention (CDC), 1.8 million children under the age of 5 die annually from diarrheal diseases or pneumonia, the top two causes of deaths among young people. The alarming rate of children dying from such preventable diseases prompted Prof. Levine, along with several students, such as Nimerta Sandhu (Haas '14) and Melanie Cernak (Haas '15), to undertake this project.
Hygiene Heroes was piloted in Cambodia and Tanzania in the summer of 2013. During the academic year, the team conducted extensive outreach to school districts, principals, and community organizations to test the project's curriculum. Meanwhile, over the summers of 2013 and 2014 under the leadership of Gautam Srikanth, a Cal undergraduate student in Environmental Economics, several UC Berkeley students traveled abroad to lay the groundwork for expanding the project in Chennai, India.
Prof. Levine explained there are many economic and cultural misconceptions about why people do not develop a hand washing habit. According to a recent World Health Organization and UNICEF report covering 54 middle- and low-income countries, 35 percent of health facilities do not have water and soap for hand washing.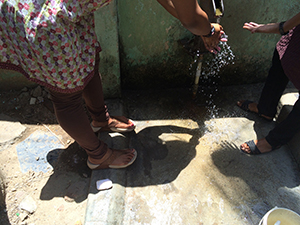 "Lots of people rinse hands with water. The Hygiene Heroes project is targeting people who do not wash their hands with soap," said Levine. "Even here in the United States, when no one is looking, people tend to not wash their hands with soap."
Continued Levine: "We introduced soapy bottles, which are basically empty water bottles filled with water and soap. With them, classrooms can create routines, such as squeezing soapy water on each student's hands as they leave for lunch and head to a faucet to rinse. Such routines constantly reinforce students' hand washing."
Hygiene Heroes is working on a shoestring budget with funding from online donors, the Center for Effective Global Action (CEGA), and the Haas School of Business, and is facing equally limited financial resources from the schools that the project is targeting. To deal with these challenges, the team is capitalizing on previous efforts launched in India to promote hand washing.
"We are building on previous curricular efforts," said Levine. "Part of the task is to reinvent some of the approaches used to promote hand washing with soap." In the past, said Levine, glitter has been used in games to demonstrate the necessity for children to wash their hands after they play and especially before eating. But glitter is expensive, so scaling such an approach is difficult. Instead, the Hygiene Heroes team is using cost-efficient alternatives, such as chalk dust or even turmeric, to play the "pass the germ (and be aware)" game.
From his time as a senior economist on President Bill Clinton's Council of Economic Advisors to his present position as the Eugene E. and Catherine M. Trefethen Chair in Business Administration at UC Berkeley, Levine has analyzed the impacts of investing in health and education, especially in poor nations. He is currently one of 19 Cal faculty members behind a new program called Development Engineering for graduate students pursuing research in poverty alleviation.
In the case of this project, said Levine, "One of the challenges is to work with regular teachers, who are busy, and make our proposed curriculum part of their routine. The board game [we introduced in Cambodia] is popular among kids, but because it is not part of their curriculum, it can serve only as supplementary material."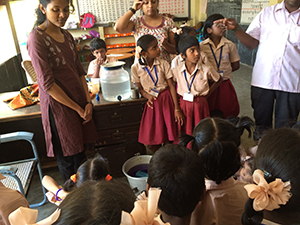 The Hygiene Heroes team has been working across disciplines to find collaborators. Jacqueline Zhou, from UC Berkeley's Art Department, for example, is the illustrator of the children's book King Akbar Writes a Law. In the story, Prime Minister Birbal, a popular folk tale character in much of South Asia, requires the palace's servants to wash their hands with water and soap. The prime minister must convince the king of the importance of the new law, slowly helping the monarch realize that contamination can spread, even if it cannot be seen.
Culture is an important facet of Hygiene Heroes. Nimerta Sandhu, who first joined the initiative in January 2013 and now works as a management consultant in the health industries, found her passion for public health and community service to be a guiding force for her involvement with the project. "Working with underserved and minority communities, the project has been very important to me. I hope to continue these efforts both internationally and within the United States," she said.
For Melanie Cernak, who now works as a business development associate at a Silicon Valley firm, her first-hand interaction with the children and their enthusiastic reception of her was fascinating, although sometimes uncomfortable. "Students were attentive and largely would listen to me," she said. "They wanted to wash their hands because they saw Americans washing their hands. But that is not a sustainable model."
Over the past two years, the project has established important connections inside and outside of Chennai. The Indian Institute of Technology in Madras (IIT-Madras) played a pivotal role in testing Hygiene Heroes in the region, and in searching for schools that benefit from the project. Currently, the team—with more than a dozen students involved—has partnered with Sarva Shiksha Abhiyan (SSA), a government program that is responsible for 30,000 schools under India's Department of School Education and Literacy. Hygiene Heroes is also hoping to increase its outreach through Teach for India, an Indian adaptation of Teach for America, and CLEAN India, a national campaign advocating for clean, healthy, and sustainable lifestyle.
Although the Hygiene Heroes team is aiming to create long-lasting behavioral change, it does not expect to produce far-reaching results instantly. A project of this scale requires constant engagement and understanding of behavioral and political factors. "It will take a long time," Prof. Levine said. "But it is the most important solvable problem on the planet."