By Sarah Bernardo
The United Nations has long been committed to pursuing gender equality in all areas of society. Most recently, the UN's 2030 Agenda for Sustainable Development includes 17 Sustainable Development Goals, one of which is to "achieve gender equality and empower all women and girls." Decreasing barriers while increasing opportunities for women and girls to participate in scientific fields is one key way to advance economic and educational equality.
In recognition of the importance of women in science, the United Nations General Assembly proclaimed that February 11 of each year would be the International Day of Women and Girls in Science.
Organizations like the Blum Center of Developing Economies at UC Berkeley endeavor to promote women and girls in science by encouraging and supporting their work at the undergraduate, graduate, and professional level. In honor of the International Day of Women and Girls in Science, the Blum Center is proud to spotlight innovative researchers, inventors, students, and faculty involved in our ecosystem.
Kara Bresnahan
Kara Bresnahan was a member of the Big Ideas team behind "Project Drsti: A Sustainable Method for Alleviating Vitamin A Deficiency." Bresnahan received a BA in Nutritional Sciences and French as well as a PhD in Nutritional Science and Global Health from the University of Wisconsin-Madison. She then went on to earn an MPH with a Nutrition and Epidemiology emphasis at UC Berkeley.
During her time at Cal, Bresnahan worked with Christopher Johnson to develop Project Drsti which proposes alleviating Vitamin A deficiency in people living in developing regions by harnessing the metabolic power of the probiotic bacterium Lactobacillus casei (L. casei.) Bresnahan and Johnson aimed to engineer L. casei to produce provitamin A (β-carotene) during yogurt fermentation with the goal of creating provitamin A biofortified yogurt that could benefit populations such as people in India who consume yogurt regularly. The bacteria strain developed by Project Drsti can be inexpensively created, freeze-dried for storage, and easily integrated into existing yogurt-production methods. Bresnahan's proposal won Honorable Mention in the Global Health category of the 2015 Big Ideas@Berkeley contest.
Katya Cherukumilli
Katya Cherukumilli helped develop the Big Ideas proposal "A Novel Approach to Remediate Groundwater Fluoride Contamination in Nalgonda, India." Cherukumilli was a Regents' and Chancellor's Scholar at UC Berkeley who earned a BS in Environmental Sciences while completing minors in Global Poverty & Practice and Energy & Resources. Cherukumilli is currently pursuing a PhD in Environmental Engineering at UC Berkeley.
In 2015, Cherukumilli worked with four other UC Berkeley students to address the issue of drinking water contaminated with toxic levels of fluoride which can lead to dental and skeletal fluorosis. The project built upon Cherukumilli's graduate research into sustainable fluoride remediation which was supported in part by a USAID-sponsored Development Impact Lab (DIL) Explore Travel Grant in summer 2013.
Cherukumilli and her team focused their project on rural Nalgonda, India, and proposed using raw bauxite ore to create a defluoridation technology that is affordable, effective, and easy to operate as well as maintain. Cherukumilli also worked with her team to design business models that would allow defluoridated water to be provided to low-income populations at an incremental price meant to encourage use of the decontaminated water. This approach won second place in the Global Health category of the 2015 Big Ideas@Berkeley contest. The project went on to win first place in UC Irvine's Designing Solutions for Poverty Contest, first place in the Research category of the 2016 USAID Higher Education Solutions Network Technical Convening's Innovation Marketplace, and received funding as a VentureWell E-Team.
Cherukumilli is currently part of the Development Engineering graduate program, and she plans to complete her PhD at Cal in May 2017.
Amy Herr
Amy Herr is the Lester John & Lynne Dewar Lloyd Distinguished Professor of Bioengineering at UC Berkeley. She is also the Faculty Director of the Bakar Fellows Program which fosters faculty entrepreneurship in the STEM+ fields. Professor Herr holds a BS from the California Institute of Technology in Engineering and Applied Science, an MS from Stanford University in Mechanical Engineering, and a PhD from Stanford University in Mechanical Engineering.
Professor Herr was the Principal Investigator for a Development Impact Lab grant that developed  a rapid point of care device for infant HIV diagnostics. The project utilized existing microfluidic technology to develop a device that could detect the presence of HIV viral proteins in infants in low resource settings.  Her project secured a DIL Explore Travel Grant in Spring 2014 which allowed PhD student Rachel Gerver to conduct  a pilot study in HIV clinics and central testing labs in Kenya.
Professor Herr's lab at UC Berkeley focuses on bioinstrumentation for quantitative biology and medicine. The point of care device for infant HIV diagnostics is just one innovation to come out of her lab. Professor Herr has won numerous awards for her research including the NIH New Innovator Award, the Ellen Weaver Award from the Association for Women in Science, and the Mid-career Achievement Award from the American Electrophoresis Society. In December 2016, Professor Herr received the prestigious honor of being inducted into the National Academy of Inventors.
Currently, Professor Herr is supervising several Bioengineering seminars in Spring 2017 including the Master of Engineering Capstone Project (ENGIN 296MA) and the Senior Design Projects course (BIOENG 192.) Professor Herr is also continuing her research in her lab.
Emily Woods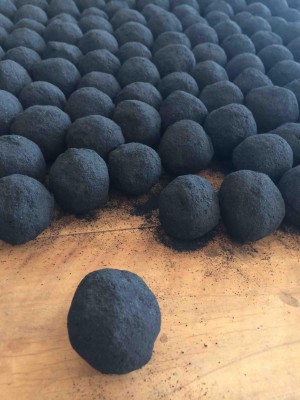 Emily Woods is the co-founder of the sanitation start-up, Sanivation which currently operates in Kenya. Woods developed Sanivation as a research engineer at the Georgia Tech Research Institute while earning her BS in Mechanical Engineering.  Woods then went on to receive her MS and PhD from the Energy and Resources Group at UC Berkeley.
Sanivation installs container-based toilets in Kenyan homes for free and charges a small monthly fee to service them. The company then takes the waste and transforms it into a clean burning alternative to charcoal. Sanivation also licenses their model to refugee camps and trains local staff to help meet the immediate demand for sanitation services.
In 2015, Woods and her co-founder, Andrew Foote, collaborated with two other UC Berkeley students to create the Feces to Fuel team. Their project, "Feces to Fuel: Saving Trees, Budgets, and Lungs," aimed to unlock "the potential in human feces and other waste streams by transforming it into affordable household cooking fuel." Through the project, Sanivation provides in-home toilets to low-income households. They then collect the human and agricultural waste, treat it, and turn it into charcoal briquettes. In addition to being a renewable energy source, the briquettes produce less smoke than traditional charcoal which results in a reduction of indoor air pollution and exposure to toxic fumes. Feces to Fuel won first place in the Energy and Resources Alternatives category of the 2015 Big Ideas@Berkeley contest. In 2016, the team won second place in the Big Ideas Scaling Up category.
Currently, Woods serves as the Chief Technology Officer and Co-founder of Sanivation. Her social enterprise aims to expand throughout East Africa and serve one million people by 2020.
Kara Nelson
Kara Nelson is a Professor of Environmental Engineering at UC Berkeley. Her research focuses on topics such as pathogens in water and sludge, water reuse, nutrient recovery, and sanitation in developing countries. She has won several awards for her research including the National Science Foundation CAREER Award and a Fulbright Fellowship to Colombia.
Professor Nelson was the Principal Investigator for research into designing a business model for toilet waste. Professor Nelson's research focused on developing a sustainable business model for the treatment of potentially pathogenic waste in household toilets. In Fall 2013, her project was awarded a DIL Explore Travel Grant that allowed MBA student Ryan Jung and PhD candidate William Tarpeh to travel to Nairobi, Kenya, to pilot test several prototypes with users.
Professor Nelson was also the Principal Investigator for an urban sanitation management project. This project focused on managing fecal sludge in septic tanks within urban areas of India and Bangladesh. A DIL Explore Travel Grant allowed PhD student, Sharada Prasad, to travel to South Asia for further research into fecal sludge management.
In the Spring 2017 semester, Professor Nelson is teaching several Civil and Environmental Engineering courses including Environmental Engineering (CivEng 111) and Water Systems and Society (CivEng 110.)