By Veena Narashiman and Blum Center News
In 2013, the Blum Center and  the Center for Effective Global Action founded the Development Impact Lab, to launch the new field of Development Engineering and create a model for university-based poverty action labs. Since that time, the Development Impact Lab, with support from USAID, has tested over 135 innovations and engaged more than 500 students, 400 experts and 375 organizations, involving 16 universities in the United States, India and Uganda.
On June 4, key representatives from the network met at the Blum Center to discuss their five years of findings and outcomes. Temina Madon, executive director of the Center for Effective Global Action, summarized Development Engineering as enabling doctoral students from multiple disciplines to research and test poverty solutions as part of their dissertations. A panel entitled "Institutionalizing the Field of Development Engineering" included UC Berkeley Mechanical Engineering Professor Alice Agogino and Economics Professor Paul Gertler, who attested to the long need for such a PhD minor. Rachel Dzombak and Sophi Martin, who earned their PhDs at Cal and are serving as the Blum Center's doctoral fellow and innovation director, respectively, also offered anecdotes about rising interest in Development Engineering.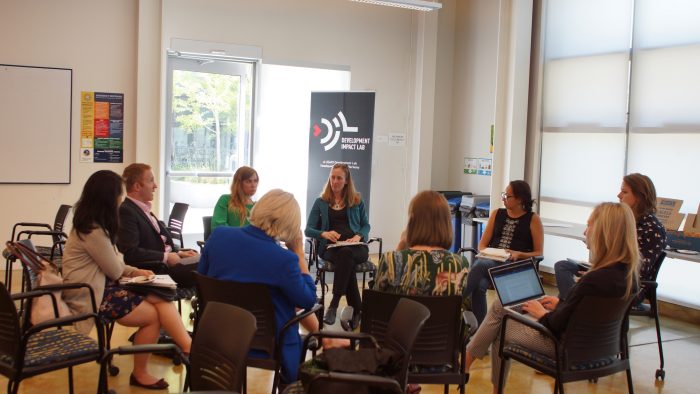 "Thanks to this new field, doctoral students considering international development now have a way to harness this aspect of their academic interests," said Professor Agogino, who is chair of the Graduate Group in Development Engineering and Education Director of the Blum Center.
Professor Gertler gave an overview of the Development Engineering journal, an open access,  interdisciplinary publication that applies engineering and economic research to the problems of poverty. The two-year old journal, he explained, is giving scholars academic credit for novel research that previously had not been widely acknowledged or disseminated.
Katherine Dow, program manager of the Global Development Lab, said that the Development Impact Lab has helped USAID better understand emerging trends in science and technology for development and the role that university professors, researchers and students can play. She also said the UC Berkeley collaboration has helped bring quality data and data methodologies to government decision makers, allowing for a redefinition of problems.
Data gathering around energy reliability in Ghana was a focus of one session. Hana Freymiller and Jeffrey Garnett from the U.S. Government's Millennium Development Corporation, gave an overview of its $535 million, five-year project in Ghana, which aims to decrease the country's energy outages by 20 percent by 2021.  The Millennium Development Corporation is collaborating with the Development Impact Lab and UC Berkeley's Lab11 to better understand where and when outages are happening in Ghana—using a mobile app called Gridwatch. GridWatch enables utility customers to automatically report outages through sensor technology on their cell phones. The data collected is more accurate in many cases than what the utility company can gather, and can show a variety of possible solutions for energy investment, energy savings, economic development, and improved quality of life.
"People are worried about the 1.1 billion people who don't have access to electricity worldwide," said UC Berkeley Business and Economics Professor Catherine Wolfram, a GridWatch project lead. "But what about those who don't have reliable access? As urbanization trends move forward, it's really important to understand reliability and measure how investment changes with reliability."
The daylong conference also featured presentations by faculty and current and former PhD students associated with the Development Impact Lab.
UC Berkeley Bioengineering Professor Dan Fletcher summarized the progress of CellScope, an invention from his lab that adapts the camera of a mobile phone or tablet computer into a high-quality light microscope for disease detection in low-resource areas. Since 2008, Professor Fletcher has used CellScope to test more than 83,000 patients, analyzing the results in a dozen journal articles—and now is aiming to mass produce 10,000 CellScopes for use in rural areas in Africa. His insight was: "Don't make technology for development as simple as possible; make it as automated as possible."
Erin Kelly, a PhD candidate in Agricultural and Resource Economies at UC Berkeley presented a mobile phone application called SmartMatatu, designed to prevent the high incidence of traffic accidents among privately owned minibuses in Nairobi, Kenya. The application uses GPS and other mobile technologies along with affordable, off-the-shelf car sensor devices to collect and send location, ignition, route, distances, speed, acceleration and deceleration information, to show Matatu drivers when, where and how they are driving unsafely. According to a six-month survey of SmartMatatu users, the app has helped drivers raised their profits and reduce repair costs–demonstrating that visibility of data can influence driver behavior and productivity.
Danny Wilson, a Development Engineering alumnus, presented the outcome of his doctoral research: Geocene.com. With Development Impact Lab funding, Geocene has created hardware and apps for data logging and analysis. Wilson talked about findings from a survey of cookstoves users in Sudan in which people over-reported use of their indoor pollution-reducing stoves, making the survey findings unreliable. With Geocene, Wilson aims to create dashboards for monitoring cookstoves across many countries. The goal, he said, is to understand what are the best cookstoves for specific conditions, so people will actually use them. He noted that nearly two million deaths could be prevented annually by replacing cooking fires and inefficient, smoky stoves.
Susanna Berkouwer, a PhD candidate at the UC Berkeley Department of Agricultural and Resource Economics and the Haas School of Business's Energy Institute, reported on the latest findings from the Development Impact Lab's Rural Electric Power Project, which is utilizing novel data collection and analysis tools. She explained that Kenya is working on a last-mile connectivity project to power all households by 2020, and is collaborating with her group to better understand how energy access does (or doesn't) lead to higher consumption, income, health and education. The results, she said, could empower both citizens and governments.
The other presentations included: Niall Keleher, a UC Berkeley School of Information PhD Candidate, presenting the results from Assistant Professor Joshua Blumenstock's research applying machine learning to high-resolution satellite imagery to measure regional poverty in Africa; Chinmayee Subban presenting Berkeley Lab Water-Energy Resilience Research Institute's progress on using charge-based salt water removal to clean brackish water; and Dana Hernandez, a Development Engineering student, summarizing UC Berkeley Civil and Environmental Engineering Professor Ashok Gadgil's ongoing research on removing arsenic from groundwater.
"The Development Impact Lab has had a tremendous five years," said Heather Lofthouse, the Blum Center's director of special projects. "By partnering with USAID and other governmental and nongovernmental organizations, we have been able not only to generate new ideas—we have been able to implement real-world solutions."