Paige Balcom was in Uganda when COVID hit. The country quickly instituted a strict lockdown—all borders and airports closed, transport stopped, a strict curfew and other restrictions were enforced by the military, misinformation spread, and many people couldn't get food. In the fall, the UC Berkeley Ph.D. student's classes went remote, and she dealt with the 10-hour time difference. 
Ugandan hospitals were facing a critical shortage of personal protective equipment, and Balcom, a mechanical engineer and InFEWS fellow at the Blum Center for Developing Economies, and her team decided to make PPE for them.
In January 2020, Balcom and Peter Okwoko, a Ugandan environmental and community activist and lecturer at Gulu University, founded Takataka Plastics, which recycles plastic waste into usable household goods. They began churning out face shields, over 18,000 of which have now been distributed to frontline workers across Uganda. Though "Uganda pulled through OK," she says, "the last year has been crazy."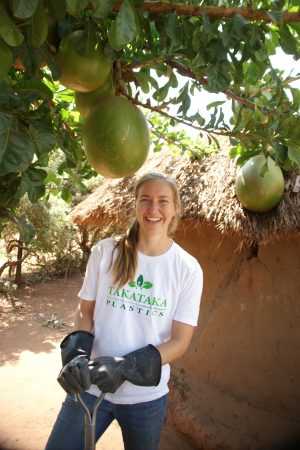 Balcom has just finished the fourth year of her M.E. Ph.D., where she's majoring in heat transfer and minoring in development engineering and design. Earlier this spring, she won the $15,000 "Use It!" Lemelson-MIT Student Prize for Takataka Plastics' system for recycling polyethylene terephthalate (PET) waste, a common plastic used in everyday goods like water bottles. "PET waste is a significant problem across the developing world because many countries like Uganda lack the infrastructure and technology to recycle this plastic, and it is often infeasible to ship it elsewhere for recycling," the Lemelson-MIT Program wrote. Balcom plans to turn her prize money into grants for local innovators in the East African country.
PET's brittleness and semicrystalline nature make it difficult to recycle, but Balcom's invention changes the chemical structure of PET enough to make it salvageable using a manually powered and locally made system. 
The Lemelson-MIT Student Prize is far from her first accolade. Balcom was the 2016 University of New Hampshire Woman of the Year, and from 2016 to 2017, she spent 10 months in Uganda as a Fulbright Scholar studying aquaponics. She has received a USAID Global Development Fellowship, and, in 2018, she and her teammates finished second in the Energy and Resources Alternatives category at the Big Ideas Contest with their venture Trash to Tiles, a precursor to Takataka Plastics. The following year, Trash to Tiles won the Scaling Up Big Ideas category. Early last year, Takataka Plastics won Stanford University's first Global Energy Heroes competition; soon after, the Clinton Global Initiative University awarded Balcom a COVID-19 Student Action Fund for the company's face shields. From 2019 to 2020, Balcom was also an inaugural fellow with the Institute for International Education's Centennial Fellowship. At Berkeley, she's received an NSF Graduate Research Fellowship, a Chancellor's Fellowship, and a Tau Beta Pi Fellowship.
The engineering innovations are only one aspect of Takataka Plastics. "I get super excited about the impact Takataka is having in the community through the jobs we create that are transforming people's lives and through our outreach efforts changing mindsets about plastic waste," says Balcom, who first visited Uganda as an undergrad with Engineers Without Borders.
The company's waste collection reduces community health hazards. It employs survivors of war, exploitation, and human trafficking, whom the company connects to care organizations that provide counseling and life skills. And Takataka is growing quickly, too. It's up to 16 employees, nine of whom, Balcom says, are "former street-connected youth." 
"Their creativity, passion, hard work, innovativeness, and desire to serve their community inspire me," she says of her coworkers. "I consider it a privilege to work with them every day."
Currently, Takataka sells wall tiles and coasters in addition to face shields. Its goal is to be able to recycle 9,000 kilograms of plastic a month in Gulu — half of the city's PET waste.
Balcom hopes to graduate next May, move back to Uganda, and expand Takataka. "We're always working on new products, entering new markets, exploring different sales strategies, and hiring new staff. There are always new opportunities, partnerships, and projects," she says. "We can't keep up with the orders, so we're working on scaling up our production capacity."
She also plans to lecture at Gulu University. "I really love teaching the engineering students," she says. "They have so many bright ideas!"
"I'd like to thank my mom and dad, sisters, friends, professors, and mentors who have invested in me and encouraged me. Winning an award such as the Lemelson-MIT Student Prize would not have been possible without all of their support," Balcom adds. "I'd also like to give a big shout out to the Big Ideas competition and Haas [School of Business] startup programs that guided me through developing the initial Takataka Plastics model. And I'd like to thank God for blessing me with so many opportunities in life."