By Alisha Dalvi
When the pandemic forced Kristi Andono to move back home to Jakarta from Los Angeles during her undergraduate education, she was able to turn adversity into opportunity and take on a brand new role — the head of the Corporate Social Responsibility team for the Indonesian Energy Corporation. As she balanced taking classes online to fulfill her real estate and architecture degree, she was simultaneously designing shelters for victims of gender-based violence in remote villages, renovations for disintegrating orphanages, and infrastructure for water accessibility. "Growing up in Indonesia has exposed me to degrading environmental conditions and its constant battle with economic growth, where one has to be sacrificed for the other," Andono said. Integrating her background with her education, Andono aims to center the environment when creating architecture, from its design process, construction, and operation, to create lasting, sustainable change.
Looking to equip herself with new skills to become a holistic changemaker, Andono applied and was accepted to UC Berkeley's Master of Developmental Engineering program, housed at the Blum Center. This three-semester professional degree is a new program that attracts students across various fields, from business to engineering to economics, to develop technological advancements that address the needs of low-resource communities across the world.
Andono and 32 other students in the new cohort — the program's second ever — attended the masked-up M.DevEng orientation on August 23. Through an interactive presentation, students gained insight into UC Berkeley as well as the program specifically. Afterward, students had the chance to mingle and meet for the first time, get to know M.DevEng staff, and go on a tour of Blum Hall — their new home for the next 15 months. This cohort is only the second in history, making them pioneers in the discipline and a fundamental group to shape the future of the program and the field.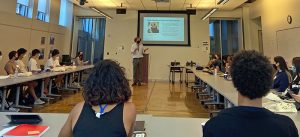 "The M.DevEng program is the shining star of educational activities at the Blum Center," said Dan Fletcher, the center's faculty director. "It is about finding creative people with initiative, who support each other, bringing them together, and tackling real problems." Students of the new cohort will take three semesters of development engineering classes as well as elective classes focused on their concentration area, along with one summer internship in between. But the development engineering classes don't follow one discipline; rather they center around "research and practice that combines the principle of engineering with economics, entrepreneurship, design, business, and policy," said Yael Perez, the director of Development Engineering programs.
That multidisciplinary element is essential to the program. During the orientation presentation, students were asked one word to describe developmental engineering. "Interdisciplinary" was the most common, appearing the largest on the computer-generated word cloud. The integrative approach of the program is especially important for Ash Seth, a product designer from Dubai who pursued a mechanical engineering undergraduate degree at Stanford University and who values the intersection of technology and social impact. As a designer herself, she has prototyped and tested affordable greenhouses for hundreds of smallholder farmers in India. But, as a strategist for an urban design nonprofit, Seth also understands the significance of dialogue across numerous disciplines, from scientists to policy specialists.
Diane Kabanyana, a business and economics major from Rwanda, is not only excited to learn from her peers through their previous academic endeavors, but from the various countries and backgrounds they come from as well. "I've only been here a week, but Berkeley is so diverse!" Kabanyana said. "I live at International House and it seems like every country is represented."
The new M.DevEng cohort itself is composed of students from over 10 different countries. But being an international student is certainly not a prerequisite. Rachel Dersch is an energy engineer from Michigan. While Dersch has developed solar power projects in Peru and Tanzania, both still up and running today, she also found the need for energy consumption reduction in her own community. By spearheading pilot programs and technology demonstrations, Dersch has been able to work to reduce energy waste in Michigan. When looking to further her education in humanitarian engineering, Dersch found that development engineering is not just a new curriculum, but a new concept in colleges all together. The M.DevEng stuck out as one of the few existing programs that was truly targeted at creating impact in low-income communities. And it didn't hurt that it's offered at the top public university in the nation.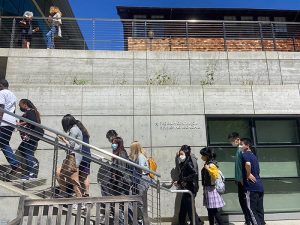 Yet for all the diversity in the cohort's educational and cultural backgrounds, one statement seemed to unite them all: "The food in Berkeley is so good!"
With students already raving about Boichik Bagels, just a few blocks away from campus, and local coffee shops, the new cohort seems to know where to fuel up before tackling projects which will make a meaningful and measurable impact on low-resource communities across the world.