By Anehita Okojie
In 2018, the USC Race and Equity Center released a report that measured postsecondary access and student success for Black undergraduates at public colleges and universities across the United States. In this report, the University of California, Berkeley received a C in representation equity and a D when it came to completion equity. According to the report, Black students at UC Berkeley are graduating at a rate of 75.4 percent — 15.9 percent less than the overall graduation rate. 
Ibrahim Baldé is a Bay Area native and UC Berkeley alumnus who graduated from the Haas School of Business with a BS in Social Entrepreneurship and Finance in December 2020. The Report led Baldé and a team of peers to question the implications of UC Berkeley's ranking for Black students and how "community organizers and groups [could] use this to challenge or call out the narrative of UC Berkeley." Baldé believes that the prestige surrounding UC Berkeley tends to downplay and often erase recognition of the barriers and challenges that underrepresented communities face. He wanted to do something. Blackbook University was the answer. 
Blackbook University is a digital platform that equips Black students with relevant information, opportunities, and a network to connect with their peers. It was launched to meet the needs of Black students on UC Berkeley's campus — and to be a model that can be replicated across California, and eventually the nation.
In its research, the team discovered the legacy of the African American Student Handbook, which served as a resource guide for Black Students at UC Berkeley in the 1980s and 1990s. This resource guide, dubbed Blackbook, listed Black faculty, advisors, student organizations, alumni, and Black-owned businesses that would support students during their time at UC Berkeley. It was a tool "for the community to streamline networking and belonging the moment that someone [touched] base on this campus," Baldé says. 
In 1996, Proposition 209 was passed in California, elimating "state and local government affirmative action programs…based on race, sex, color, or national origin." Once this proposition went into effect, it significantly decreased the number of Black students admitted to Berkeley, as the University of California system could no longer provide outreach, counseling, and tutoring services targeted at individuals based on sex, race, or ethnicity. Baldé notes that the impact of Proposition 209 on UC Berkeley's campus was that the infrastructure of the Black community started to diminish and "the resource guide was no longer maintained." 
The Blackbook team came together in 2019 to discuss the importance of the resource guide for students in the past and how they could modernize it to meet the needs of current Cal students. The team included UC Berkeley students Chase Ali-Watkins '20, Nahom Solomon '21, Farhiya Ali '23, Nicholas Brathwaite '20, and Imran Sekalala '22. Kyle Parkman, a 2020 UC Santa Cruz graduate, rounded out the founding team. 
To assess need, the team polled Black students on campus and found that around 90 percent of Black Cal students wanted a platform for Black students built by Black students. Blackbook was founded on three pillars: an accessible mobile application for students, university programming to empower the professional development of students, and storytelling to highlight the success of Black students and professionals. Blackbook University's mobile platform connects students to events, opportunities, and programs led by on campus organizations. The team is currently in the process of reaching out to Black student leaders on UC Berkeley's campus to get them onboarded and to begin utilizing the platform to communicate with Black students. 
"We've made it so that any Black student can enter the platform and understand exactly what resource or experience is available and optimal for them," Baldé says. 
Currently, the mobile application is available on the App Store and the Google Play Store for download. Blackbook's goal is to have 500 active users on the platform by the end of the 2022–23 school year.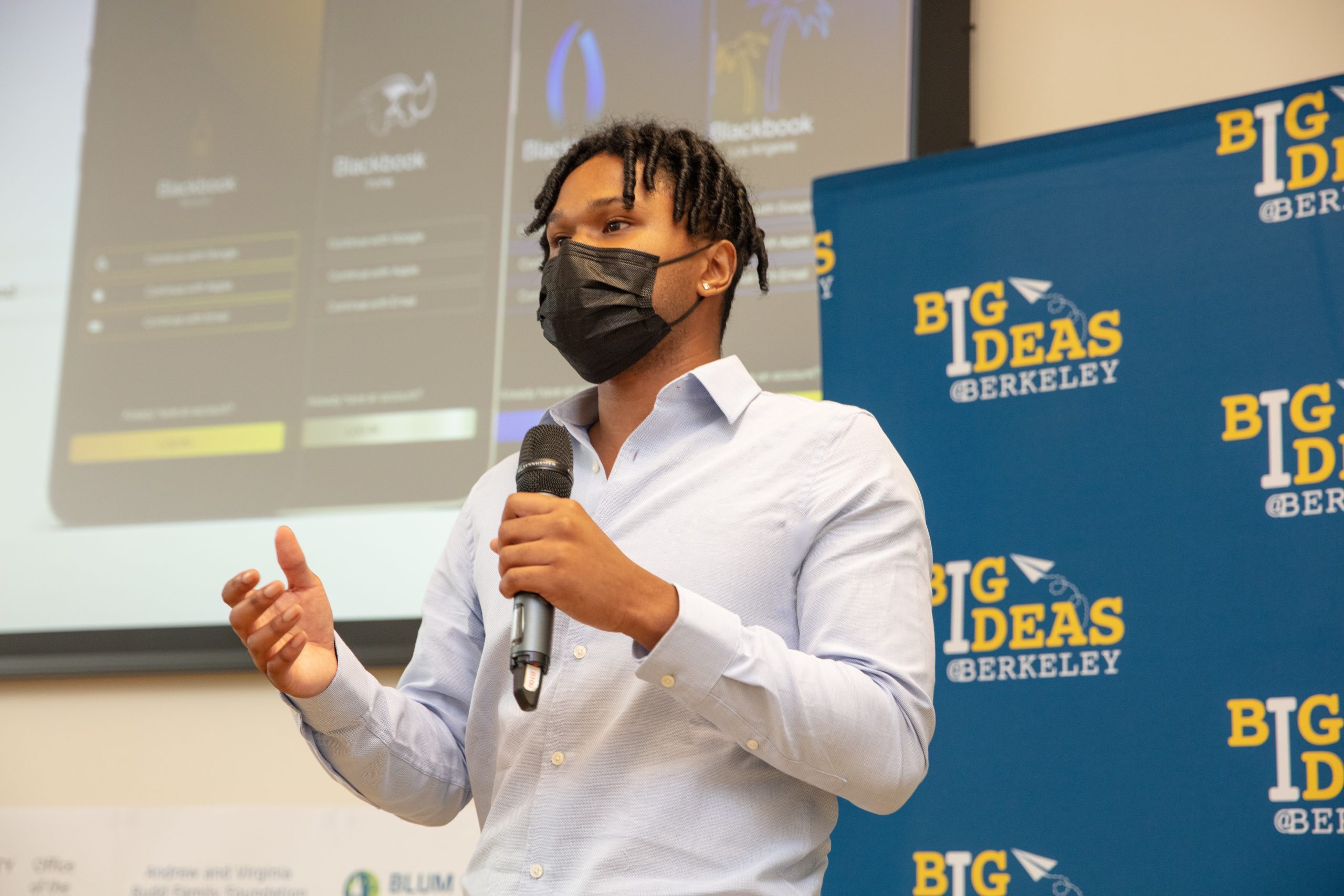 The 2020–21 Big Ideas Contest gave the Blackbook University team the ability to take Blackbook from an idea to a tangible product. The competition helped the team challenge themselves, offered them access to advisors, and helped them structure the model of Blackbook. One of their advisors was Bill Allison, the current campus technology officer at UC Berkeley. Baldé notes that Allison offered insight on how to "think about and navigate both the development of the platform and the onboarding process for our users in our pilot [and] also at scale." Big Ideas also allowed them to network with several other entrepreneurs who have built other university-based platforms. The networking opportunities showed the Blackbook team it was on the right track, Baldé says. He also credits Big Ideas workshops and advising sessions with helping Blackbook solidify its approach to building their program. 
Since winning Big Ideas, Blackbook has continued evolving through app development, a pilot program, and continued involvement in the Black community at UC Berkeley. In late 2021, it created a pilot in collaboration with African American Student Development on Berkeley's campus to work on projects to integrate Blackbook further into the Berkeley ecosystem. This pilot program consisted of five interns who worked on thinking about and tailoring solutions related to the complexities of Blackbook. They pitched different ideas about the trajectory of Blackbook and how to further leverage technology to positively impact the experience of Black students. The team continued to connect with the Blackbook interns over the summer to ensure that their input was being integrated into updates to the Blackbook application and marketing strategies. 
This past summer, the Blackbook team connected with high school Black Student Unions and community colleges to continue their outreach and upliftment of the Black community across the Bay Area. It hopes increased contact with high school and community college students will allow the platform to create meaningful connections with these students and communities before they arrive at a four-year institution. 
"We are working to make the Blackbook platform accessible beyond the UC Berkeley campus," Baldé says. "Our goal is to build a Blackbook presence on every campus in the US, starting with major campuses and the UC system. We see university recruiting as a huge aspect of the growth of our model moving forward — we intend to position Blackbook as the access point for companies and organizations to hire Black talent."