By Andrea Guzman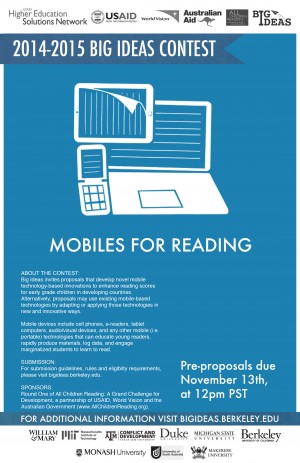 A 2013/2014 UNESCO report found that 250 million children across the globe are not learning basic literacy and numeracy skills. Of these, 57 million children—a disproportionate number of whom are from disadvantaged backgrounds, live in conflict-afflicted countries, or are disabled or simply girls—aren't enrolled in school at all.
Big Ideas@Berkeley and USAID's Global Development Lab are aiming to change these numbers through the Mobiles for Reading contest category by inviting students to develop novel technology-based innovations to enhance reading skills for youth in developing countries. This new contest category is sponsored by All Children Reading:  A Grand Challenge for Development, a partnership between USAID, World Vision and the Australian Government.
The creation of the category comes amidst a growing international movement to use mobile technologies as tools for enhancing children's reading skills. Numerous studies have shown that children who do not develop reading skills during early primary education are on a lifetime trajectory of limited educational progress and economic opportunities. Meanwhile, mobile devices are ubiquitous, even in low-income regions. According to the International Telecommunications Union, 96.2% of people on the planet have mobile cellular telephone subscriptions.
To Rebecca Leege, project director of the All Children Reading initiative, mobile technology can be a particularly effective tool to disseminate local language instruction materials. "Evidence confirms that children best learn to read in the language with which they are most familiar," said Leege in an email. "However, many children enter schools where they are taught in a foreign language and have little or no access to mother tongue reading resources, making it difficult for them to gain the foundational skills needed to learn to read. This, coupled with low engagement from family or their community to support their learning to read, limits the reinforcement needed to develop a proficient reader."
Leege added: "A basic phone or tablet can provide new and vital mother-tongue reading resources to engage children's curiosity and interest in reading in communities with sparse access to books."
While mobiles for reading remains a new approach, some programs have illustrated promising results. A pilot program for illiterate women conducted by the Afghan Institute of Learning showed that between May 2011 and May 2012 reading via mobile halved the time in which students were able to attain literacy at a basic 2 level. Teachers sent daily texts to students, who read the incoming messages and responded via SMS, demonstrating reading comprehension and writing skills. Researchers found that cell phone texts generated excitement among students, as literacy became not an "abstract skill" of alleged importance, but a tangible skill that could bring the students to "another level of understanding of the world around them."
Over the past few years, a growing number of NGOs, academic researchers, social entrepreneurs, donors, and policymakers have begun to develop and support mobiles for reading technology. On October 15-16 2014, USAID and the mEducation Alliance held the third annual Mobiles for Education Alliance Symposium in Washington, DC, which brought together 185 participants from the Americas, Africa, Asia, Australia, Europe and the Middle East to discuss trends and topics to advance the field.
Although participants repeatedly underscored that technology and mobile devices are exciting new tools to foster inclusive and quality education, many also pointed out that the human element is crucial. "What matters is the human interaction," said Brian Gonzalez, the symposium's keynote speaker and director of the global education sector at Intel. "But not one-to-one, but one-to-many in order to improve the way teachers teach and children learn."
Leege believes that among the greatest barriers to innovation in mobile reading are access to electricity and connectivity. "To assist those learning to read in low-resource settings, low-cost and open source materials easily maintained by the user are vital," she said. "We would like to see student innovation that addresses unreliable—or absent—electricity and connectivity in low-resource communities."
The Mobiles for Reading contest is open to over 500,000 students across 18 universities, from Uganda to Australia (for a full list of eligible universities, visit the Mobiles for Reading webpage.) Students who wish to participate must develop novel mobile technology-based innovations to enhance reading scores for early grade children in developing countries. Alternatively, proposals may use existing mobile-based technologies to improve early grade reading scores by adapting or applying those technologies in new and innovative ways. A five-page pre-proposal is due November 13 to the bigideascontest.org website. Three to to six student teams to be selected to continue on to the full proposal round in the spring. Winners will receive awards up to $10,000 to go toward further developing their idea.
"We hope to capitalize on student's creativity, knowledge, personal experience of learning to read, as well as their desire to innovate for a better world," Leege said.