By Tamara Straus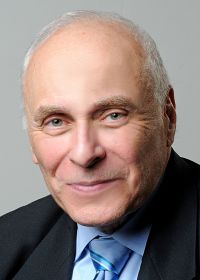 On October 10 at the first Blum Center Faculty Luncheon devoted to "Digital Transformation of Development," Michael Nacht, the Thomas and Alison Schneider Chair in Public Policy, presented on "The Nexus of National Security, Diplomacy, and Development"—and gave a sober assessment of what that nexus might produce under the Trump administration.
Nacht, who has served three tours of duty in government, most recently as Assistant Secretary of Defense for Global Strategic Affairs (2009-2010), provided an overview of government investments in the defense and development sectors. He reminded the group of Blum Center-affiliated faculty that the research which led to the atomic bomb was entirely government funded and led through national labs, including Lawrence Livermore National Lab.
"Thinking about it now years later," said Nacht, "the community that makes up Lawrence Livermore National Lab understands things have really changed. There has been a proliferation of technologies and the vast majority of the innovative work is being done by the private sector. In fact, 85 percent of the research and development in this country is being funded by the private sector, not the government. It has spillover effects, not just in national security, but in development."
Nacht was referencing a 2018 LLNL book on this shift he co-edited entitled Strategic Latency: Red, White, and Blue—Managing the National and International Security Consequences of Disruptive Technologies. The book looks at the implications of artificial intelligence, bioengineering, and other technological advances and underscores the consequences of disruptive paths are never straight. "We appreciate the seeming contradictions that can lead life-saving technologies in unintended negative directions, or prompt military technologies toward peace and prosperity through spinoffs or war-avoiding defenses," Nacht and his co-editor Zachary Davis write in their introduction.
Yet Nacht has become a pessimist. He said that national security and international development interests don't have much current geopolitical overlap. That is because national security interests are focused on Russia, China, Iran, North Korea, Islamic terrorism, cyber threats, and space-related work—and international development interests are focused on areas of high poverty, particularly Sub-Saharan Africa and Southeast Asia. "Really, the only two [developing] countries that transcend to the national security community are India and Iraq," he said.
Also, Nacht is adamant that the current presidential administration is making defense, diplomacy, and development intersections unlikely because of what he called "the Trump team's tremendous rejection of multilateral instruments." He added: "There may be outright hostility in trying to apply national security interests to international development interests."
Nacht did point out the Department of Defense under former Secretary of Defense Ash Carter (2015-2017) focused on strengthening ties between the DoD and the tech community. In August 2015, DoD established the DIUX, the Defense Intelligence Unit Experimental, with headquarters in Mountain View, to help the U.S. military make faster use of emerging commercial technologies, promote joint appointments, and imbue the defense department with a more entrepreneurial culture. Nacht said those efforts have not ceased, but it is unclear whether they are, or can be, a priority under Secretary of Defense James Mattis.
Still, Nacht pointed out that we will continue to see areas of confluence between defense, technology, and even development, especially in academia. He cited the example of UC Berkeley Bioengineering Professor Jay Keasling, whose research on the metabolic pathways inside cells led to a semi-synthetic version of the antimalarial drug artemisinin, which has driven down the cost of treatment and saved lives in Sub-Saharan Africa, creating greater equity and stability.
Yet Nacht expressed concern that new technologies, particularly AI and machine learning, could devastate the developing world. Citing a September 17, 2018 Bloomberg article on the subject, he said China has been able to leverage its large population and low costs to build a manufacturing sector that is producing better and more technology-intensive goods—while India, with its large English-speaking population and low costs, has become a hub for outsourcing low-end, white-collar jobs in fields like business-process outsourcing and software testing. Now, however, with AI's accelerating automation of factories and customer service, corporations will bring many of these jobs back to where they are based, leading to a potentially explosive crisis.
"It's a complicated pattern," said Nacht. "Using technology to improve lives sometimes works and sometimes doesn't."
At the same time, Nacht noted that China's investment in African and Latin American infrastructure in exchange for natural resources is a phenomenon that the U.S. cannot afford to ignore, especially as China does not proffer democracy building, human rights, or other political carrots as a condition for investment. This purely economic transaction, Nacht said, is one that the Trump administration might follow, ending decades of foreign policy initiatives.
Nacht concluded that the U.S. needs more strategic interaction between its economic and foreign policy positions in developing countries, but said reading the Trump administration's tea leaves in this regard is next to impossible.
Among the discussants to respond to Nacht's presentation was Joshua Blumenstock, assistant professor at the School of Information and director of the Data-Intensive Development Lab. His research lies at the intersection of machine learning and development economics, and focuses on using novel data and methods to better understand the causes and consequences of global poverty. Blumenstock noted that resource challenges arising from climate change should bring together the national security, technology, and development communities. But that the cultures of these communities are quite distinct and often at odds. He would like to see more efforts like DIUX to find commonalities between the communities.
Alice Agogino, professor of mechanical engineering and the Blum Center's education director, said that one research effort combining climate change, development, technology, and national security is the center's InFEWS (Innovations at the Nexus of Food, Energy, and Water Systems) program, supported by the National Science Foundation. InFEWS recognizes that food, energy, and water systems are under increasing stress, and it is thus becoming imperative to integrate social, ecological, physical, and built environments to meet growing demand for food, energy and water in the short term while also maintaining appropriate ecosystem services for the future. The Blum Center's program is supporting graduate students working in these systems and helping them master interdisciplinary skills to create research that can be transferred out of the lab and into the field. "In essence," said Agogino, "we are already supporting the very people who can serve at the nexus of national security and development. We call them Development Engineers."
Brad DeLong, the Blum Center's chief economist, ended the session with a long view of the history of war. Bringing the group to the present times, he said: "Now we find ourselves in a world with many security threats to us and to others, with a military that does not have a history to deal with the threats we face and the missions it is going to be asked to undertake. To amplify our problems, we have little idea about the form that the social practice of war will take in the 21st century. We do not expect to see the industrial total wars, the national liberation wars, the imperial little wars that we saw in the 20th century. But what will we see? What kind of U.S. military would best deal with what we are likely to see? And how can the U.S. government's power—military, diplomatic, development—be deployed to eliminate as many 21st century war threats as possible?"
DeLong concluded: "A great deal of the potential causes of 21st-century war as a social practice, whatever form it turns out to take, are rooted or are aggravated by problems of development. And the U.S. military—with its tradition from the Black Hills-stealing army of the post-Civil War on up to the fast-moving powerful force of Desert Storm where we were tasked with being military police in a place where we did not speak the language—is not well-equipped to think about the force structure and the doctrine needed for the 21st century. Here I think we can really, genuinely help."